Your Stay

Useful Info
French Polynesia
Status: Overseas collectivity of the French Republic, French Polynesia is composed of five archipelagos grouping 118 islands of which only 76 are inhabited (the archipelago of the Society, the Tuamotu archipelago, the Gambier archipelago, the Australes Archipelago and the Marquises Islands).
Area: French Polynesia covers an area of approximately 5 million km2 (as vast as Europe!).
Capitale: Papeete
Currency & change
The official currency is the Pacific Franc, commonly called locally "Franc" or "Franc CP" (ISO denomination: XPF) whose parity with the euro is fixed.
120 XPF for 1 EUR (approx.)
8 EUR for 1,000 XPF (approx.)
Change: If the EUR and USD are generally accepted in high level hotels, it is preferable to exchange them in Pacific Franc currency when you arrive on the territory. Cash dispensers are available on Tahiti and the largest islands of French Polynesia (Moorea, Raiatea, Bora Bora, ...).
Communication & Internet
Internet: The Internet is well deployed on Tahiti, in hotels and on the main islands.
Mobile phone network: The mobile phone network is also easily accessible. Pre-paid cards are available from the two local operators, Vini and Vodafone.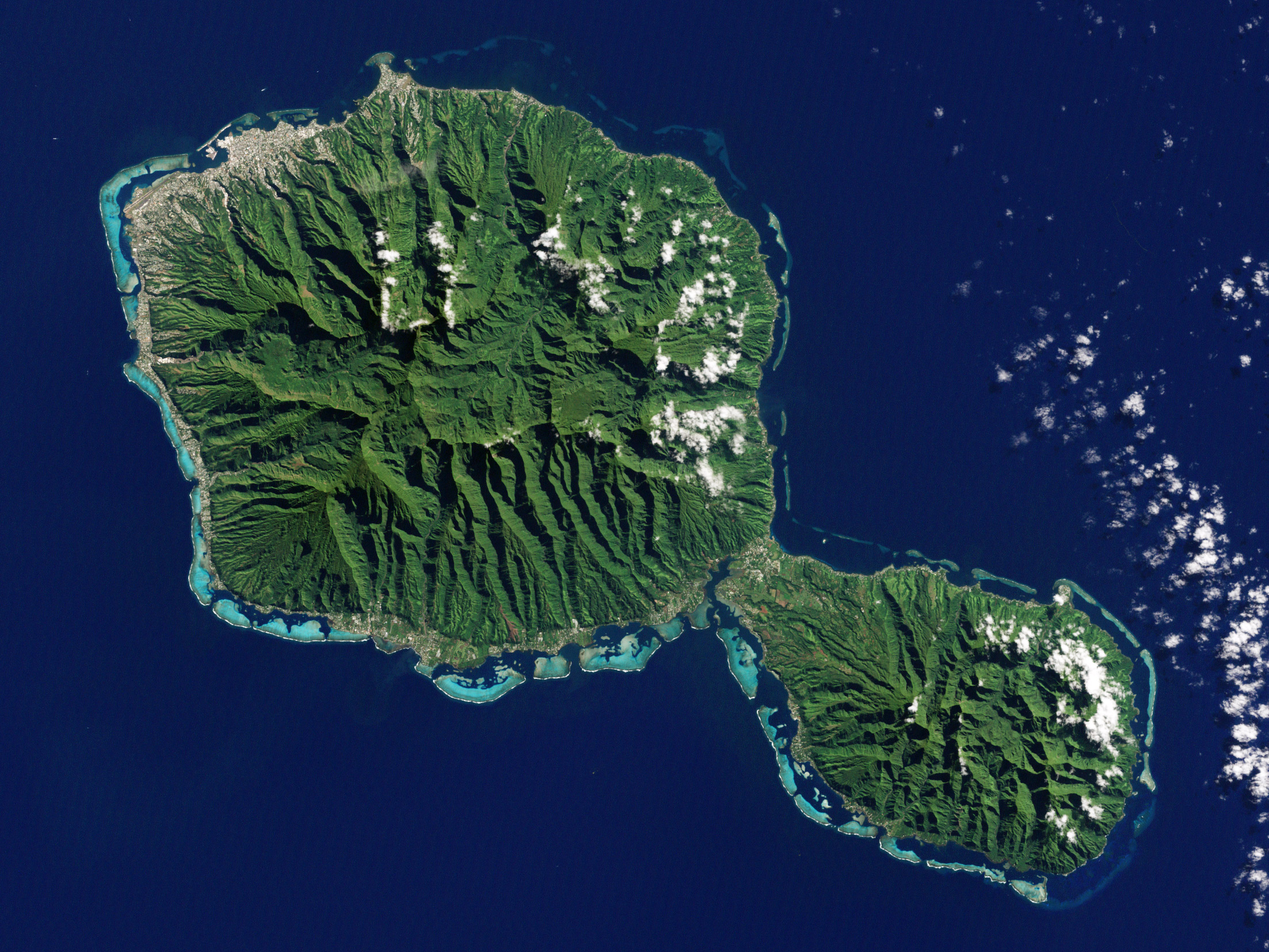 Island of Tahiti
Location: Tahiti is located in the middle of the South Pacific, more than 4,000 km from Hawaii, nearly 5,000 km from New Caledonia, 6,000 km from Australia, 7.000 km from California, 8,000 km from Chile and more than 15,000 km from Europe.
Configuration: of an area of more than 1,000 km2 and 132 km of coastline, Tahiti, the largest island of French Polynesia, consists of two parts connected by an earth arm (Taravao Isthmus): Tahiti Nui (big Tahiti) and Tahiti Iti (small Tahiti).
Highest point: Mount Orohena proudly raises its summits to over 2,200 meters, thus constituting the highest montain in French Polynesia.
Population: Tahiti is the most populated island of French Polynesia with nearly 185,000 inhabitants for a total population of about 280,000 inhabitants.
Climate: Tahiti offers a humid tropical maritime climate, with two great seasons: a warm season, austral summer, from November to April and a cool season, the austral winter, from May to October. Average temperatures vary from 24 °C (75°F) to 30 °C (86°F) depending on the season (nights and in altitude, the temperature can be very significantly cooler).
Diving: Diving all year in Polynesia! With water temperatures between 26 °C (79°F) and 29 °C (84°F) depending on the season, a wetsuit (short or long) for tropical climates (3 mm) is usually sufficient.
Transfers
Depending on your accommodation, Eleuthera will arrange your transfer to the dive center (please contact us).